This event has already occurred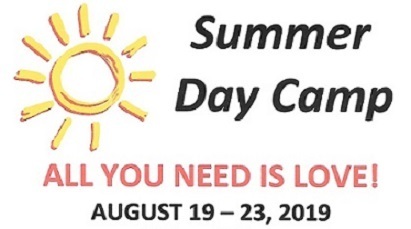 Save to your Calendar
2019 Summer Day Camp in Port Hardy
Wondering what to do with your children this summer?
"All You Need Is Love!" is a summer day camp for children ages 5 to 11 years taking place at St. Columba's Anglican United Church 9190 Granville Street in Port Hardy from August 19 to 23, 2019.
This day camp is open to all children and combines storytelling, arts, games, crafts, and activities to nurture the spirit of each child in order to support children and their families to live lives of faith, hope, and compassion in the world. This camp also provides opportunities for youth helpers to be mentored in leadership skills.
The camp provides a safe, welcoming, high quality, and affordable summer day camp experience. The faith-based programme will encourage children to explore the "Great Commandment" to love following Jesus' example and teachings: what it means to be welcoming; what it means to love God, self, and others; what it means to care for the earth and all its creatures; what it means to grow seeds of love within; and what it means to share God's love in the world.
Camp runs from 9:00 am until 3:00 pm and costs $60.00 per child for the week. Bursaries are also available to help cover the registration costs.
To register for day camp, call the church at 250-949-6247 or Judy at 250-949-2360 or email [email protected]